Founded in 1986, with over 20 years of experience, Aquatech has been the headquarters for cave, cavern, and open water diving for 15 years.
Aquatech, makes it as easy to dive as 1-2-3. With our professional staff to help you, you can decide on which type of diving you will prefer for the day.
We have a complete stock of rental gear from regulators to BCDs. We also rent technical equipment for the cave diver.
Nitrox fills are always available and our experienced team of instructors and dive masters will help you set up.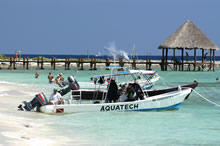 See dive rates Equipment Rental Fees