Cave Diving
History
Villas De Rosa / Aquatech Dive Center is located in the heart of Mexico's cave diving world. Cave diving emerged in the Akumal-Tulum area during the mid 1980's, when divers discovered that the cenotes (natural wells) were windows to the underground streams. This began an entire New Frontier! As cave divers continued to explore, more cave systems were discovered.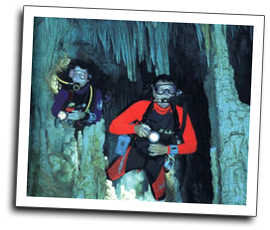 Check out these great cave photos!
Today, there are over fifty-seven different cave systems to visit with more than 300 miles of passageways to explore and enjoy. Five of the largest water filled cave systems in the world are located in this area. The three longest known stalactitas are also located in the area's systems. History continues to be made as new roads are blazoned into the jungle, allowing access to more and more virgin cenotes. Aquatech's professional staff of cave divers and instructors is a major force in creating this living history.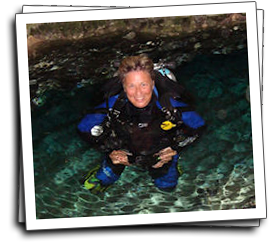 Guided Cave Diving
Why spend your valuable vacation time working out the details of cave diving in Mexico? Take advantage of our services to bring you to the height of your cave diving dreams. Your cave diving adventure begins here, with the dedicated professional staff at Aquatech Dive Center.
Our staff can provide all the services you need. We have over 50 sets of doubles, single tanks for side mount, jungle transportation to and from the dive sites, and a cave coordinator who not only knows where the best sites are, where to get the key for entry, and the best dive plan for each sites.
Spend your vacation time diving the beautiful caves of the Riviera Maya………let us take care of all the details. All our cave diving staff are active cave divers and familiar with the best sites in the area. Cave dive rates
We also offer all-inclusive Group Cave Packages coordinated by Connie LoRe. As an individual you can take advantage of our economical group pricing and still receive personal attention and all the benefits we offer at Aquatech Dive Center. You will also have the opportunity to meet other cave divers and future dive buddies. For more information, visit www.CaveDiveMexico.com or send an email to:
Instructions
Complete cave training is consists of four 2 day courses: Cavern, Intro to Cave, Apprentice to Cave and Full Cave. These courses can be taken separately or in combination. Aquatech offers a variety of Cave Training Packages that will fit each diver's needs and interests.
Our warm cave systems (temp.75 degrees)are shallow (average 35ft.),with little to no flow, very highly decorated, all in all, making this a water wonderland of beauty. Most of the dive sites offer easy accessibility and all 82 different known systems lie within 20 miles of Villas De Rosa/ Aquatech Dive Center.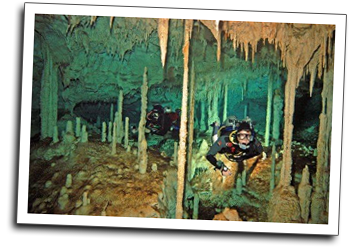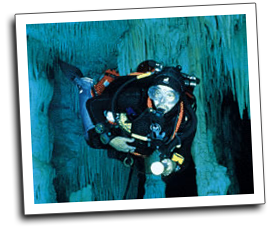 Cave Conservation
One of the most important aspects of cave diving is the conservation of this unique underground water filled environment. We are extremely fortunate to have over one million feet of surveyed cave passages to dive.
You will see that safe cave and cavern diving and proper diving techniques are part of our dedicated professionalism here at Villas De Rosa/ Aquatech Dive Center. It is our enthusiasm in cave ecology that we hope to spread to all, that will encourage the development of a complete caring attitude toward this unique environment that we can now visit.
Cave divers should know and understand their limits and realize that we are just sight seeing in a world of Mother Nature's personal works, pure spectacular effects, to be sure. We wish to be able to let all future generations enjoy the caves and caverns that we prize so highly today. Please email us for further details