Jorge Lizar helped us put together this great video that explains how the Riviera Maya was formed, how it interacts, and the problems that are now happening along this coast.
Beach Xcacel: Natural Protected Area?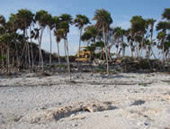 Hotel developers have put an eye on the marine turtle sanctuary of X'cacel and they want it no matter what. With legal tricks and false promises of ecological methods, they are trying to take over the most important sea turtle nesting beach in Mexico and its ecosystem...
Read More (pdf)
Press (pdf)
Aguas con los cenotes

"Aguas" means water in Spanish but it is also used to alert someone of an imminent danger, with this campaign SAVE. is starting a movement which looks for the legal protection of the cenotes.
SAVE�s Book release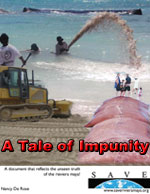 In A Tale of Impunity we show with simple text and photos some of the worst crimes that the Spanish owned hotel Bahia Principe has done in this area; demonstrating what coastal developers are doing to our fragile environment.

Download Pdf (5.7Mb)fast connection
Download Pdf (3.2Mb)slow connection
Cenotes
Sea Turtles
Mangroves